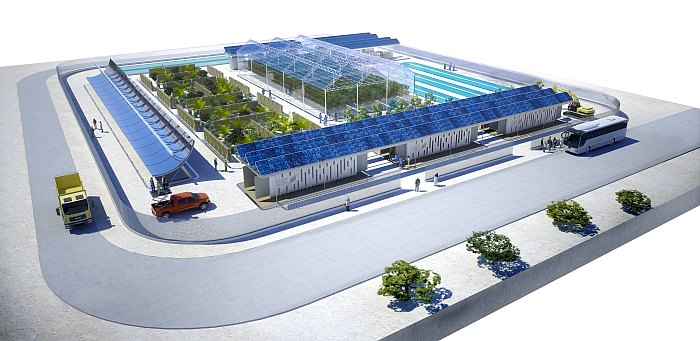 The Sahara Forest Project AS is a Norwegian private limited liability company. The purpose of the company is to create profitable innovation and environmental solutions within the food, water and energy sector. This is achieved by bringing The Sahara Forest Project technology to the market in relevant countries.
The world is facing critical challenges in providing enough sustainably produced food, water and energy for a world population excepted to reach 9 billion in 2050. These challenges also represent a huge market potential for companies investing in solutions that set out to address these challenges. The Sahara Forest Project has embarked on the quest to provide environmental answers that not only address the challenges individually, but rather develop solutions that address multiple challenges simultaneously.
The uniqueness of the concept lies in bringing out the potential that exist in the synergies between technologies across industry sectors. The Sahara Forest Project does this by combining already existing and proven environmental technologies, such as solar power technologies, saltwater cooled greenhouses and technologies for establishing vegetation in arid areas. In this way The Sahara Forest Project is designed to utilize what we have enough of to produce what we need more of, using deserts, sunlight, saltwater and CO2 to produce food, water and clean energy.
By creating a synergistic system of technologies where the waste stream from one process becomes a resource for another, The Sahara Forest Project has developed a business rationale that is inspired by nature to provide truly sustainable economic value creation. One example of this is making use of waste heat from Concentrated Solar Power plants to provide heat and desalinate water for greenhouse operations. Making use of these synergies improves the business case of both technologies significantly. Another example is how algae production and greenhouse operations share costs of infrastructure and land by co-locating. These are two of many examples of how The Sahara forest Project brings technologies together to make each one more efficient and profitable than they are alone.
A key pillar for The Sahara Forest Project is that the company's activities shall be good for the environment, good for social development and provide long term economic benefits to the investors. This is the company's triple bottom line approach. As such, The Sahara Forest Project AS bases its work on close cooperation with businesses, academia and civil society in the countries where it operates. The cooperation ranges from scientific and social cooperation with universities, think tanks and NGOs to joint ventures with commercial companies.
The success of The Sahara Forest Project is made possible only by the dedication of its team members and partners. With world leading competence in fields ranging from natural and social sciences to business, engineering, architecture and growing techniques, The Sahara Forest Project has already managed to prove a track record of developing internationally recognized and ground breaking ideas and putting them into effect on the ground.
The Sahara Forest Project AS operates under the Ethical Guidelines for commercial initiatives set out by The Sahara Forest Foundation. To read more about The Sahara Forest Project Foundation click here: https://www.saharaforestproject.com/foundation/ethical-guidelines.html