After 8 years Joakim Hauge has chosen to resign as Chief Executive Officer of Sahara Forest Project AS. The previous Chief Financial Officer of SFP AS, Jan Henry S. Fosse, is now going to lead the company's further developments as the new CEO of the company.
Joakim Hauge will continue his leadership as President of The Sahara Forest Project Foundation.
Since the establishment in 2010 Joakim Hauge has lead The Sahara Forest Project AS through raising of substantial funds, developing a professional organization, the realization of two SFP facilities and building a global brand and position for SFP AS. The company is now positioned to take advantage of a number of promising business opportunities that has been developed.
At the same time of the change of the CEO in the company, there are some strategic changes of the day-to-day scope of the two existing SFP entities. Sahara Forest Project AS will strengthen its focus on realization of large-scale commercial production facilities. The non-profit entity Sahara Forest Project Foundation will continue its focus on innovation, operation and development of the Jordan facility in Aqaba. The foundation will engage in public-private partnerships and manage and develop the SFP concept and brand owned by the Foundation.
Jan Henry S. Fosse                 Joakim Hauge
Looking forward to collaboration
-It has been a privilege to lead the company's efforts in developing from idea to reality. I am very happy to see Jan Henry S. Fosse take over the role as new CEO in The Sahara Forest Project AS. I am confident that he will successfully lead SFP AS towards continued growth and new milestones and I look forward to work with Jan Henry through a fruitful collaboration between SFP AS and SFP Foundation"  Joakim Hauge said.
Jan Henry S. Fosse has been the Chief Financial Officer of the company for the last two years, and is ready for his new task.
-I am very honored to accept the leadership of this great organization in a very exciting period, where many years of focused efforts has created a strong opportunity pipeline. Having had the pleasure of working closely with Joakim, I know that these opportunities speaks volumes of the hard work put into developing the company and I very much look forward to the continued close co-operation going forward"  Jan Henry S. Fosse said.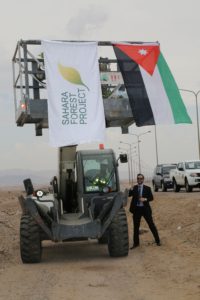 Jan Henry S. Fosse