Press Release by Sahara Forest Project on February 28th 2019
 Jordan: Growth and Opportunities, London Initiative.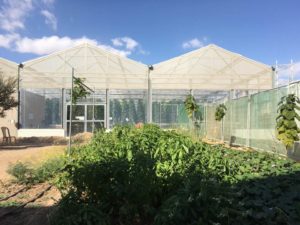 The Sahara Forest Project, Bellona Foundation and EY sign a new partnership agreement to boost climate-smart food production and greening the desert in Jordan using sunlight and seawater.
 – We are proud to be invited to this important high-level conference in London in order to launch a new milestone agreement for the Sahara Forest Project operations in Aqaba in Jordan, Frederic Hauge, founder of the Sahara Forest Project, said.
The Sahara Forest Project uses sun, saltwater, desert areas and CO2 to produce food, freshwater, biomass and clean energy.
Under the patronage of His Majesty King Abdullah II of Jordan and His Royal Highness Crown Prince Haakon of Norway, the Sahara Forest Project Launch Station in Aqaba was opened on September 7th 2017.
As public and private stakeholders went to the London conference, the innovative project launched a new partnership with global firm EY in front of key supporters and financial contributors.
The Norwegian State Secretary Mr. Audun Halvorsen, Dr. Michael Koehler, Director for the neighbourhood South, in the European Commission DG NEAR,and former President of Costa Rica, Mr. José María Figueres attended the signing ceremony.
EY Head of Digitalization and Innovation Mr. Terje Andersen and SFP Founder Frederic Hauge signed the new agreement.
Encouraged by both local and national stakeholders in Jordan, as well as the international community, the new agreement with global firm EY represent an important next step in the commercialization and development of the current 3 hectare Water-Energy-Food-producing demonstration facility close to Aqaba airport.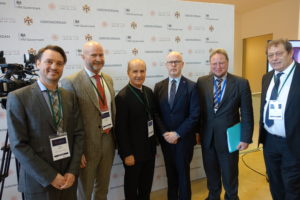 From left: Kjetil Stake (SFP), Terje Andersen (EY), Jose Maria Figueres (ex-president Costa Rica), Audun Halvorsen (Norway), Michael Köhler (EU), Frederic Hauge (Founder SFP and President Bellona Foundation)
Creating a regional powerhouse of expertise
EY, the latest collaborator to the realization of the Sahara Forest Project in Jordan was presented by Mr. Terje Andersen in London.
–As a leading global professional services firm, EY has agreed to utilise its competences, experiences, and office network to support the innovative and promising Sahara Forest Project. It is a perfect match with EY's overall vision of "Building a better working world". We see a great potential in this partnership and look forward to working with Sahara Forest Project in further scaling up its operations, Mr Andersen said.
 The ambitious project is realized with financial support from the Norwegian government and the European Union as the two largest donors.
Mr. Audun Halvorsen, State Secretary of the Minsitry of Foreign Affairs travelled from Oslo to take part. The Norwegian government contributed with approx. 1 million euros in support in 2018.
-The Sahara Forest Project demonstrates a unique model for sustainable production of food, water and energy in the desert, which we hope will inspire other initiatives and create new opportunities for Jordan. This innovative project benefits climate, people and business. Norway remains committed to continue its support to the project by providing approximately 1 million USD for the period 2018-2020, Mr. Halvorsen said.
European Union Commissioner Mr. Johannes Hahn sent the following statement in writing:
-The European Union is pleased to fund together with Norway such an innovative initiative to introduce Green Energy applications and implement the nexus approach that supports in parallel energy, water and food security while creating jobs in Jordan, the EU Commissioner Mr Johannes Hahn reflected in a written statement.
Representing the European Commission at the side event in Lomndon, Mr. Michael Köhler emphasized at the that the support to the Sahara Forest Project was a part of the European Union and Jordan green energy partnership, where the EU has assisted Jordan to lead the green energy development in the Middle East with over 160 million euros since 2009.
Former President of Costa Rica, Mr. José María Figueres is a longtime friend of both the Sahara Forest Project and the Kingdom of Jordan. –Combining ocean water with carbon dioxide from the atmosphere and adding sunlight, to produce food, freshwater and clean energy sounds like amiracle. In fact, it is not. That is what the Sahara Forest Project does. With a successful proof of concept in Aqaba, we now need to scale this wonderful invention of the Bellona Foundation, Mr. Figueres said.
Fighting drought and climate change with sustainable and profitable food production in the desert
After 1,5 years of operations in Jordan, the Sahara Forest Project saltwater-cooled greenhouses have demonstrated its capacity to grow high-end vegetables all-year round, sold to the local market and tourism sector in Aqaba.
In order to compare results with the succesful former pilot model in Qatar, the main focus of Sahara Forest Project was to grow snack cucumbers for the first year. Now, different vegetables such as pak choi, cherry tomatoes, herbs and lettuce are trialed out and tested. In addition, outside the greenhouses, more than 90% of the different outdoor crops planted have survived this period of operations.
Founder Frederic Hauge mentioned that the Sahara Forest Project findings combined with the new agreement with EY demonstrates that this concept could be commercialized and deployed both in large scale in Jordan and elsewhere. –For us, failure is not an option. I truly believe the facility in Jordan will serve as an inspiration to other dry areas of the world with freshwater scarcity and proximity to saltwater.
As a Time Magazine Hero of the Environment and a leading environmental expert highly recognized in Europe, the US and Russia, Frederic Hauge is more optimistic than ever:
-I see The Sahara Forest Project as one of the most innovative business-oriented tools in the world today. We need to combat global warming, drought and desertification. And we can do it with business and existing technologies. Is there really any better solution than to start green desert areas in large scale through profitable production of food, freshwater, biomass and clean energy, Mr. Hauge asked rhetorically, emphasizing the social benefits of creating new, green jobs in arid areas.
The Sahara Forest Project is a concept with a system-based approach using only proven technologies. Instead of being a part of the challenges often seen in food production- such as increased freshwater scarcity, fossil fuel consumption and loss of biodiversity – the Sahara Forest Project represents a new tool for decision makers by showing how food is produced in a sustainable matter also when it comes to water and energy use. The infrastructure built around the Sahara Forest Project would also benefit local farmers with access to productive land and by taking part in an industrial ecosystem for modern food production.
Triple Bottom Line approach
The Sahara Forest Project is founded on the idea that deserts once again can be lush and green.  And that this can be realized through activities with a triple bottom-line.
-Everything we do on the ground in Jordan is measured against three goals. Our activities need to be good for people, it need to good for the environment, and with this new EY collaboration we take a giant step in making our activities good for business, Mr. Hauge concluded.
Contact information:
Mr. Magnus Borgen, Head of Communications at The Sahara Forest Project
magnus@saharaforestproject.com / Tel: +47 977 28 476.

His Majesty King Abdullah II arriving the London Conference