Aiming to combat this alarming unemployment phenomena, and simultaneously contribute to global water, energy, and food security, the Sahara Forest Project Foundation (SFP) and Al Hussein Technical University (HTU) have designed and completed the first stage of a comprehensive training program for young female engineers within the Water-Energy-Food Nexus.

In 2050, the global population will be more than 9.3 billion people. Today the world is facing intertwined challenges of food, water and energy security, coupled with climate change, desertification and shrinking forests. None of these challenges are insolvable. At the same time, it is becoming clearer every year that we cannot afford to pursue responses to one challenge that come at the expense of another. As challenges are tightly connected, there is an increasing need to develop holistic, global solutions and boost green jobs creation. The Arab region is considered as the world's most economically, and environmentally vulnerable regions to climate change. Water, energy, and food security, which are strictly correlated, risk to be heavily affected by the climate change. However, it is precisely the link between water, energy, and food sectors that could provide many of the answers to tackle sustainable development.
Furthermore, university graduates in Jordan are unable to find work in their areas of specialization. This is because universities are not successful in finding practical and commercially significant applications for their teaching and their research.
A key factor of success to combat this alarming unemployment phenomena is to provide learning opportunities to students to collaborate to find practical uses for the knowledge and skills in their courses; to find graduate-level jobs; then to continue to learn, polishing their skills and updating their knowledge. This adds to their employability and to their capacity to set up their own knowledge-based businesses.
The training programme
The overall goal of the training programme is capacity building for unemployed female engineers in innovation and food production within the Water-Energy-Food nexus. The programme aims to increase the employability chances for the participants through three main training components: technical skills, soft skills. and english. Theoretical aspects are covered at the HTU campus in Amman, and the practical component at SFP in Aqaba. To inspire the participants even further and with the aim of growing their professional network, Jordanian and/or international female mentors follow each training Group. During the course of the programme, each participants works on case studies representing real challenges for SFP and/or other relevant actors Finally, upon completion of the program, each participant presents their work to an expert panel.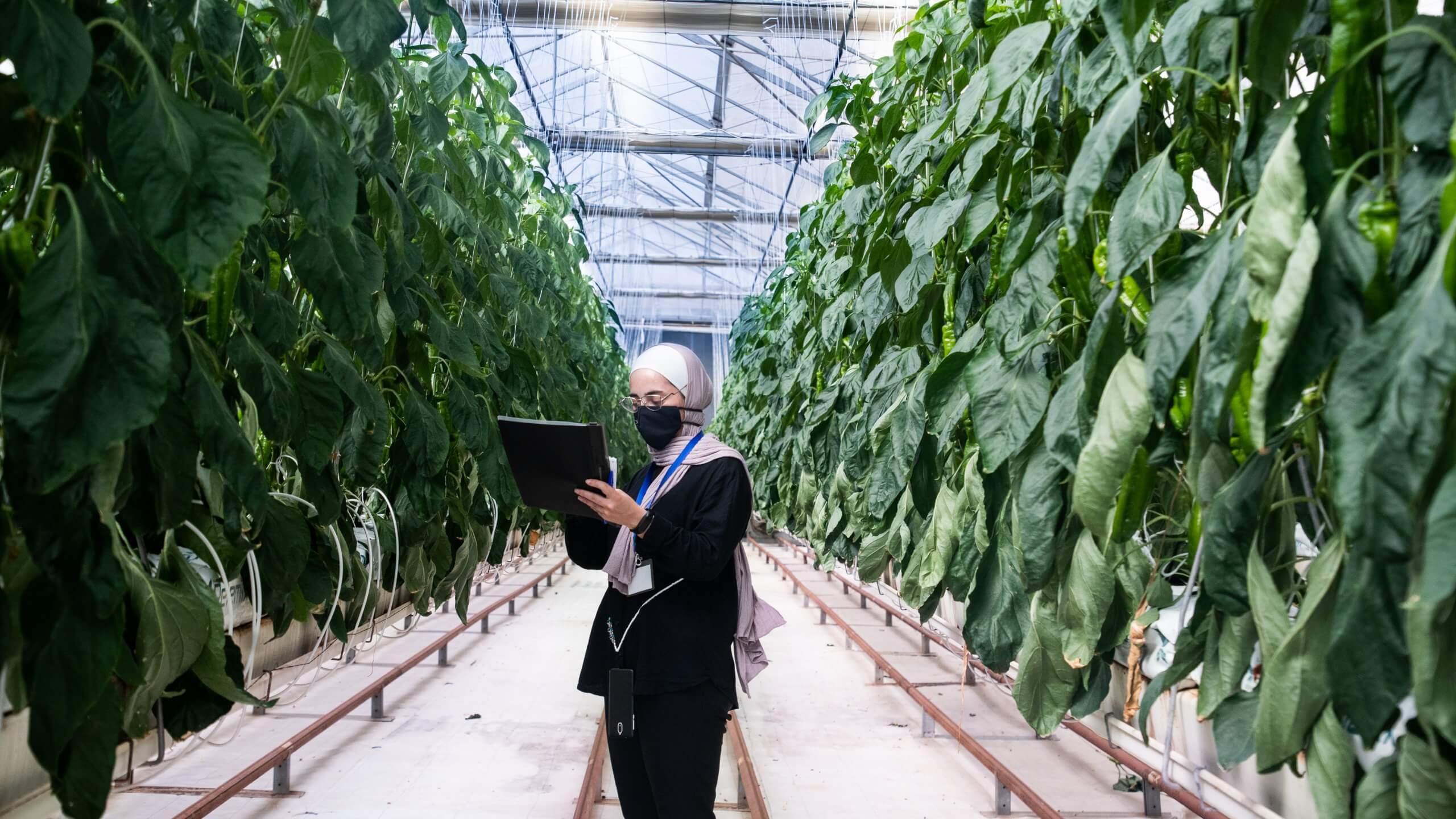 The training programme has been covered in news outlets such as al-Monitor: In Jordan, female engineers lead the way in sustainable agriculture. and Jordan Times: Training launched to boost modern agricultural practices.
The training
Solving interconnected global challenges and creating green job opportunities related to production of food, freshwater and clean energy is the main objective of the training. In-depth focus will thus be put on the following:
Protective Agriculture
Integrated Pest Management
Nutrients Solutions/Fertilizers
Irrigation Efficiency
Post Harvesting Techniques and Methods
Understanding the water – energy – good nexus concepts, challenges and opportunities in Jordan, the MENA region, and globally
Getting acquainted of the available and emerging climate-smart technologies within the water-energy-food context
Learning and understanding the economic, social, and environmental potential by hands-on training at the Sahara Forest Project site (using sun, saltwater, desert land to produce food, freshwater, clean energy; and less CO2)
Policy and institutional framework for environment, water, energy and agriculture
The practical training includes horticulture production, desalination, irrigation systems, electricity control systems and outdoor vegetation. Each training group are able to follow the process from planting the very first seeds to the final harvest. The participants also get valuable business insight in the high-end professional agricultural industry both in Jordan and internationally.
Non-technical training includes understanding:
Understanding the importance and the basics of business case development and marketing
Ability to communicate and advocate for green technologies as an enabler for more sustainable development
Introducing basics of project management as an essential market requirement
Administrative routines such as monitoring and proper documentation of activities
Technical writing, research techniques and presentation essentials
Strengthen leadership skills and self-confidence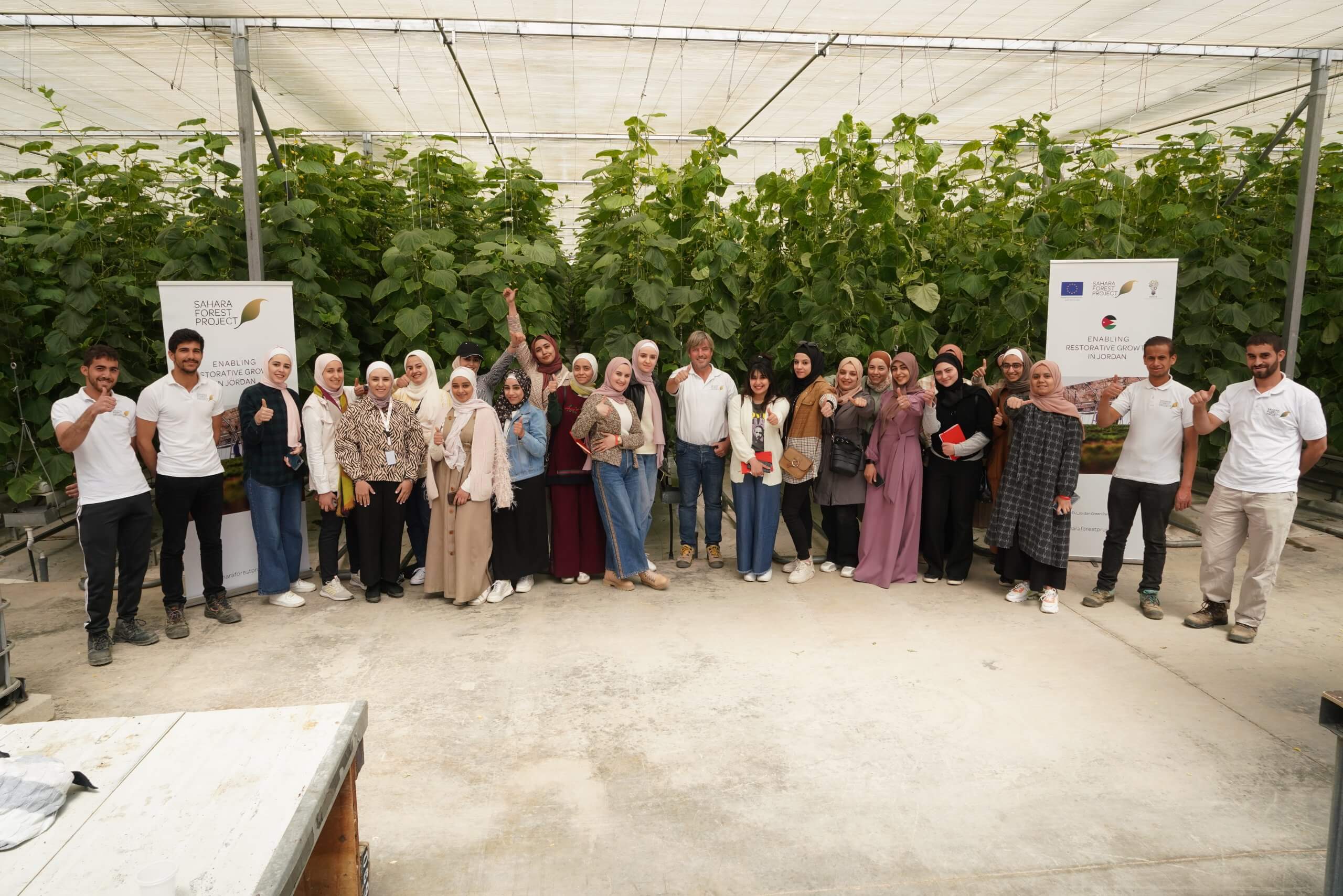 Partners and funders
Al Hussein Technical University (HTU) is our local partner in this programme. HTU was founded in 2016 as a private, non-profit applied technical education institute, and is located in Amman, Jordan. Upskilling programs for unemployed graduates of other Jordanian universities are among key strategic pillars for HTU, thus making them an ideal partner in this programme. The university uses an innovative collaboration model in which industry experts and business leaders are educators with curriculum aiming to equip students with specialised skills that match real market needs and bridge the gap with employers.
Finally, the programme would not be a reality without the generous support from the Norwegian Ministry of Foreign Affairs.