Press release:
The Sahara Forest Project join forces with Bellona Foundation, Aker Horizons, The Norwegian Ministry of Foreign Affairs and several additional partners to establish an arena at COP27 in Sharm El Sheikh in November.
Thursday August 18, as part of the Norwegian political conference Arendalsuka, the Sahara Forest Project, Bellona Foundation, Aker Horizons, the Norwegian government, Oslo municipality, SINTEF, Vow ASA, Pathfinder International, Norwegian African Business Association (NABA) and We Play Green  launched the new COP27 initiative for members of the Norwegian press on board the Bellona boat Kallinika.

Sahara Forest Project was launched globally at COP15 in Copenhagen in 2009. At COP18 in Doha, Qatar, the very first SFP pilot facility was opened. Since then, SFP staff has been attending most the following COPs, including ambitious efforts at both COP21 in Paris in 2015 and COP26 in Glasgow in 2021.
 "Sahara Forest Project looks at COP27 in Sharm El Sheikh as an incredibly important milestone to establish if the world community is on track to achieve the UN sustainability goals by 2030. The Sahara Forest Project team is going to Sharm El Sheikh in November to show decision-makers global and climate-smart solutions for how the world can produce food in dry regions, and how to green deserts", said Managing Director at Sahara Forest Project Kjetil Stake.
Stake in particular mentioned how the demonstration size Launch Station in Aqaba, Jordan was highlighted as a case study and good example of a cross-sector approach to combat global warming in the latest IPCC report from April 2022.
SFP founder & Bellona Founder & President Frederic Hauge also spoke at the event. Bellona was present at the very first COP, held in Rio de Janeiro in 1992, and highlighted the fact that this year will celebrate a 30 year anniversary for travelling to advocate and influence at the world stage.
"Bellona is incredibly proud of having moved from the identification of problems to actively help solving them. I am looking forward to going to Sharm El Sheikh, and we will be bringing solutions together with our cooperative partners. To solve the climate crisis civil society and business must cooperate, and this is exactly what we will be doing in Sharm El Sheikh" said founder of Bellona Frederic Hauge.
The event saw ministerial participation from
"This will be a demanding summit, there is no doubt about that. This is also a COP set in Africa, where there will be an emphasis on loss, damages, and climate financing. An important part of the summit are the activities surrounding the negotiations. In a world facing acute climate and environmental crisis, looking at solutions is key" said Norwegian Minister for Climate and Environment Espen Barth Eide at the launch.
The main cooperative partner, the Norwegian Ministry of Foreign Affairs, also participated to the launch. State Secretary Bjørg Sandkjær emphasized the following in her engaging remarks:
"Climate affects everything we do, and we are working together with the countries who are feeling the effects of the climate crisis the most. It is good that we can help bring Norwegian stakeholders into the international dialogue taking place at these summits, you actually have to be there and this is work that is urgent. We will unite climate and development policy, and that is the superstructure of everything we do".
Aker Horizons are contributing with concrete solutions at COP27. They have established companies developing technology-based solutions, and are realizing large projects in offshore wind, solar, carbon capture and clean hydrogen in 18 countries and five continents. In Africa, Aker Horizons, through portfolio company Mainstream Renewable Power, developed renewable projects in South-Africa, Egypt, Senegal and Ghana.
"In light of the ongoing climate and energy crisis, international cooperation and solidarity is more important than ever. If we are to be successful in reaching the set climate targets of net-zero by 2050, closer cooperation between countries and between public and private sector is crucial. Aker Horizons is a driving force in the development of innovative and profitable green solutions for industry, and we are looking forward to contributing to progress in the important work on climate taking place at COP27 in Sharm El Sheikh, together with Bellona and the Norwegian government" said Marianne Stigset, Communications Director in Aker Horizons.
Warm thanks to HE Ambassador Richard Wood, for his speech on the road from the succesful Glasgow summit COP26 in 2021 onward to COP27 in Egypt this year. It was also a pleasure  having partners from SINTEF, Vow ASA, We Play Green and NABA onboard the boat.
More activities to come.
For any questions on Sahara Forest Project towards COP27:
Magnus Borgen, What's App: + 47 97728476, email: magnus(at)saharaforestproject.com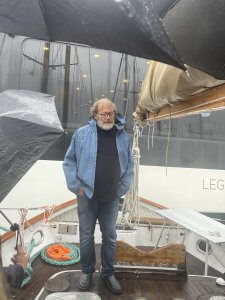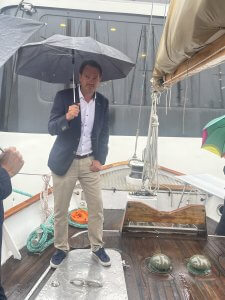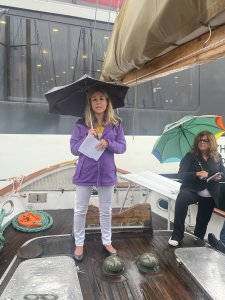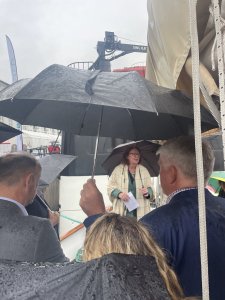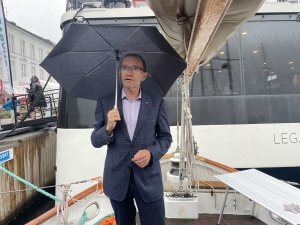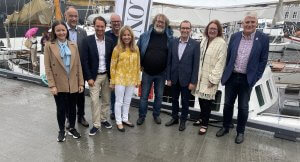 For COP27 Bellona and Sahara Forest Project have brought together a range of stakeholders including governments, business, academia and civil society.