One year after the state visit of their majesties King Harald and Queen Sonja to Jordan, Jordanian vegetables grown in the arid lands of Aqaba arrived in Oslo, Norway. The Sahara Forest Project succeeded to ship 48 boxes, 3.5 kilogram each, of red sweet pointed peppers & red hot chilli peppers after cooperating with Norwegian wholesaler BAMA to bring produce from Aqaba to Norway.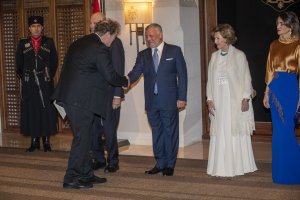 -This demonstrates an international demand for Jordanian products produced in a climate-smart way in the desert, the Managing Director Mr. Kjetil Stake of Sahara Forest Project said. The milestone was reached last week, as peppers from Jordan was brought via ground and sea transportation all the way to Northern Europe.
The vegetables were grown and harvested in a state of the art facility in the Jordanian desert which utilizes, seawater, sunlight, wind and climate-smart agricultural technologies to grow crops inside and outside their Aqaba saltwater-cooled greenhouses all year long. The high-end seeds of the product, called Sweet Palermo peppers, came from the well-known Dutch company Rijk Zwaan.
Director Kjetil Stake emphasized that his staff is currently working hard to scale-up their production in Aqaba, and that their ambition is to turn Jordan's water scarcity and vast desert lands into new opportunities when it comes to grow high-end agricultural production.
–Using the Sahara Forest Project concept and new technological solutions, Jordanian barriers are turned into new business opportunities for the decades to come, Stake said.
The Sahara Forest Project uses saltwater, sunlight and Jordanian arid land to produce top-notch vegetables. At the same time, the project bring forward a solution to face desertification and food scarcity across the region, whilst creating new high-skilled jobs for young Jordanians.
The buyer of the Jordanian products, is Norway's largest private distributor of fruit and vegetables. Bama is engaged in wholesale trading of imported and Norwegian-produced fresh produce in fruits, vegetables and flowers.
-It is interesting to see that Sahara Forest Project has been able to plant and harvest at the right momemts in time, and that they have been able to get a satisfactory quality on their red peppers, Procurement Director Mr. Petter Henrik Gathen in Bama told Norwegian news agency NTB.
Mr. Gathen said that Bama is always looking for suppliers in new countries, and that they want to pay close attention to use of new technologies in agriculture. –We are excited to see if this project will manage to scale up their production to reach interesting volumes, Mr. Gathen at Bama said.
Following the arrival at Bama in Norway, samples of the products were brought forward to the Jordanian Embassy in Oslo, and His Excellency Ambassador Janti Kalajoqa were able taste the Aqaba products. "I am happy that the Jordanian vegetables will be introduced to the Norwegian market. Hopefully, this is a great start to further strengthen and increase trade relations between our two friendly countries. Well done to our good friends and all the people working at the Sahara Forest Project, for the hard work and effort they have put into the project making it what it is today, a success. Their use of advanced technology could further develop the agricultural sector in Jordan", Ambassador Kalajoqa said.
The mission of the Sahara Forest Project, which was inaugurated under the patronage of His Majesty King Abdullah and Crown Prince Haakon of Norway in September 2017, is to green desert areas and to create local green jobs through the production of food, fresh water and clean energy, using saltwater and sunlight as the main input factors, read the statement.
Currently, it operates a three-hectare commercial-size facility 12 kilometers north of the port of Aqaba, combining salt water-cooled greenhouses, solar energy panels and different techniques for outdoor revegetation in dry areas, according to the statement. The governments of Jordan and Norway, the EU Commission and USAID funded the facility.
His Excellency, Senator Malek Kabariti commended the progress SFP achieved since the project started in Jordan.
" This project came upon a request from HM the King in 2010 during a visit to Norway where he invited SFP to build a prototype. Today, HM is instructing the government to focus more on agricultural and water-related issues. SFP experimented with different technologies, what is good about the crops is that it is climate-smart and is produced using renewable energy and seawater and that is a perfect concept for Jordan. Also, SFP has been training individuals and engineers to transform the knowledge and know how to Jordanians. SFP has done a fantastic job to prove the concept and today they are shipping high-quality produce from Jordan to Oslo and the product arrived in perfect condition. I hope the project will expand in size and production scale, and I think the Ministry of Agriculture should explore this project and find ways to enhance cooperation".