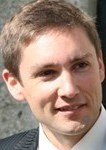 Mr. Pål Dale is elected as a new member to the Board of Directors of Sahara Forest Project AS.
Mr. Dale is co-founder and Managing Director of Voxtra, a Norwegian impact investment fund manager that invests in agricultural value chains in East Africa. Previously, he worked for five years as a management consultant in The Boston Consulting Group. He is also trained as an officer in the Norwegian Army, and has served in the NATO operation in Bosnia & Herzegovina. He holds an MSc in Economics from the Norwegian University of Science and Technology. He speaks Norwegian, English and Russian.
The Board of Director of Sahara Forest Project AS consists of Frederic Hauge, Kjetil Stake, Michael Pawlyn, Bill Watts and Pål Dale.