The Sahara Forest Project in Jordan is teaming up with the Bellona Foundation, Aker Horizons, the Norwegian Ministry of Foreign Affairs and other partners to identify 121 solutions for the 21st century. The initiative will be presented in a solution-oriented pavilion inside the UN Climate Summit in Glasgow in November.
On Wednesday,​​the Sahara Forest Project in Jordan, Bellona Foundation, Aker Horizons and the Norwegian Ministry of Foreign Affairs presented the new Climate Summit initiative for Norwegian and international press on board the Bellona boat Kallinika at the political gathering "Arendalsuka" in southern Norway.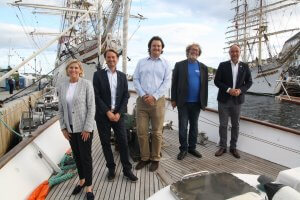 From left to right: Ms. Trude Sundset (Aker Horizon), Kjetil Stake (SFP), Jens Frölich Holte (State Secretary Norwegian Ministry of Foregin Affairs), Frederic Hauge (Bellona), H.E. Richard Wood (UK Ambassador to Norway).
The British Ambassador to Norway, H.E. Richard Wood, set the scene representing the host nation of the summit.
– We want to create partnership between states, civil society and businesses to take concrete action to address climate change. We are absolutely convinced that meaningful change requires close partnerships between all sectors. We need government frameworks, civil society awareness raising, and business to adopt practices that will concretely reduce emission and take account of climate risk in all their actions, UK ambassador to Norway, Richard Wood said.
The UK Ambassador Richard Wood (left) and the Norwegian State Secretary Jens Frölich Holte
The Norwegian State Secretary Jens Frölich Holte emphasized in his speech of how important it is for Norway to send large and mixed delegations to the UN Climate Summit. –I am happy to announce that the Norwegian Ministry of Foreign Affairs is proud to be a partner in this new solution-oriented initiative towards the COP26, and contribute with resources in order to make this a success, Mr. Frölich Holte said, whilst humoristically confirming that his Twitter profile photo is from his trip he made to the high-level inauguration of the Sahara Forest Project in Aqaba in 2017.
The Sahara Forest Project looks forward to collaborating with Bellona, ​​Aker Horizons and the Ministry of Foreign Affairs towards and during the climate summit. Sahara Forest Project was launched at the COP15 in Copenhagen in 2009, and has a long track record of taking part at UN Climate Summits.
– The Sahara Forest Project sees COP26 in Glasgow as the starting point for how the world will achieve the UN Sustainability Goals by 2030. We will be present to show decision-makers global, climate-smart solutions for how the world will produce food in arid areas and make desert areas greener, general manager Kjetil Stake said. Mr. Stake is leading the efforts in Aqaba, Jordan.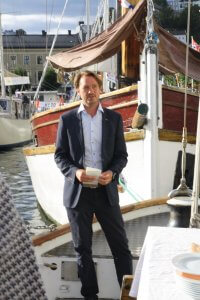 Kjetil Stake
The industrial company Aker Horizons will contribute with solutions at the UN Climate Summit. Aker Horizons has established industrial companies that develop solutions and realize major projects in offshore wind, solar energy, carbon capture, pure hydrogen, and more.
– International framework conditions are important premises for future success. The Climate Summit in Glasgow is the leading international arena for decision-makers who set the agenda and who, together with industry and the financial markets, will drive the solutions that take us towards 'net zero'. We look forward to a good collaboration with Bellona, Sahara Forest Project and the other partners before, during and after the climate summit, Ms. Trude Sundset, Strategic Advisor at Aker Horizons said.
For Bellona Foundation, ​​the presence at the UN climate summit started in Rio de Janeiro in 1992. Through many years of participation, the non-profit environmental organization with offices in Oslo, Brussels, St.Petersburg, Murmansk, London and Berlin, has gained extensive experience in how to ensure impact in the international system.
– I consider this to be the most important climate summit of our time. If we are to combat global warming, civil society, governments and the business community must come together in Glasgow. Bellona has been working with carbon-negative solutions since 2008. We know the solutions we need more of in the world, including carbon capture and storage (CCS) and new forms of biomass. Bellona has long and versatile expertise in these issues and has been a pioneer in thinking carbon-negatively,  Bellona Founder and President Mr. Frederic Hauge said.
– Some actors in the environmental movement spend their time talking down the UN climate summits as an arena. I have attended international meetings for 30 years, and Bellona will prioritize the climate summits in the future as well. If we do not talk to each other and and do inspire each other, and then nothing will be solved, Bellona founder Frederic Hauge concluded.
For more information about the UN Climate Summit initiative and the upcoming COP26 pavilion:
Magnus Borgen, Director Of Communications & Institutional Relations Sahara Forest Project magnus@saharaforestproject.com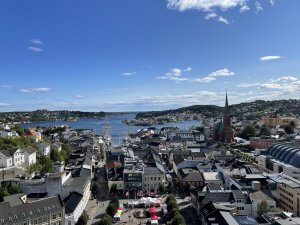 The launch took place in the City of Arendal, Norway