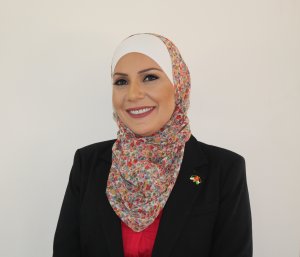 Eng. Ruba AlZubi is the new Country Director for Sahara Forest Project Foundation in Jordan.
The Sahara Forest Project has a new and ambitious strategy in Jordan around three new pillars of activities. The strategy includes commercial roll-out, "She Grows" female upskilling programme for Jordanian talents and a development of a technology hub. To succeed in implementing our strategy it is clear that our project in Jordan will have to be operated for and by Jordanians. We are happy and proud that Ms. Ruba Al-Zu´bi has accepted the offer to be the very first Jordanian Country Director of the Sahara Forest Project.
"We have had the pleasure of knowing Ruba for years, and she has been instrumental to succeed with several milestones for the past year. It is with great excitement that we now can announce that we will work closely together on a more permanent basis", Managing Director Kjetil Stake said.
Ms. Ruba AlZubi has over 20 years of experience in the fields of sustainable development and green economy. Ms. Ruba AlZubi holds M.Sc. Civil Engineering in Water & Environmental Engineering from Jordan University of Science and Technology. Ms. AlZubi has worked with SFP since April 2020, in addition to volunteer as a mentor for female engineers through SFPs Upskilling Program in Food Security and Agricultural Technology. Ms. AlZubi has previously worked as CEO of EDAMA in Jordan, as well as well as Director of Clean Technology Sector (USAID Jordan Competitiveness Program). She has expertise in policy development, program management, donor coordination and institutional reform across the public and private sectors.