Date: 2nd/March/2020
Press Release
New saltwater pipeline enables green growth in Aqaba 
Sahara Forest Project (SFP) and Aqaba Development Corporation (ADC) has signed a memorandum of understanding to establish a pipeline to the project site fulfilling ambitions to scale up to commercial operations for large scale environmentally friendly food production, revegetation and green job creation.
"It is with great excitement that today we enter this agreement with ADC. A saltwater pipeline leading to our facility is crucial to future scale up of SFP. In addition this pipeline will also allow for other business to develop along side it and contribute to meeting the ambition to creating more green jobs and business in Aqaba", Kjetil Stake, Managing Director SFP said.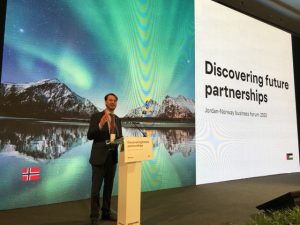 The current demonstration facility is located 12 kilometers outside the city center of Aqaba. It uses saltwater, sunlight and desert areas to produce vegetables, freshwater, biomass and clean energy. The ambition of the project is to rapidly scale up- It is the understanding of the parties that the new land will have an area of 200,000 Square metres allocated to develop the project, and another 300,000 Square metres for further roll-out.
Norway has been a crucial partner for this project ever since 2010. The Norwegian Minister of Foreign Affairs Ine Eriksen Søreide said in a statement that "the agreement between the Sahara Forest Project and the Jordanian authorities on building a pipeline for saltwater to their facility in Aqaba is an important step. The Norwegian Government has decided to continue our support to the project. Jordan needs more freshwater, and this project utilises sun and saltwater to achieve sustainable agriculture in Jordan".
Chief Commissioner Aqaba Special Economic Zone Authority (ASEZA), Nayef Bakheet said "It is with great pleasure and utmost honour that I welcome their Majesties King Harald V and Queen Sonja of Norway to Jordan. As we gather in the spirit of partnership between our beloved countries, the Sahara project, has and continues to be a symbol of the special ties between Jordan and Norway. This is a project that we are particularly proud to host in Aqaba. Since the inauguration of ASEZA in 2001, we maintained and applied the highest of environmental standards and we practiced Sustainable development at its best as well as utilization of solar energy and sea water deem SFP in order to create ideal launching point for projects utilizing green technology in the region. Therefore, the partnership evolved between ASEZA and SFP's project and will continue to be a platform showcasing Norwegian technology, advocating green technology and demonstrating international collaboration at its best."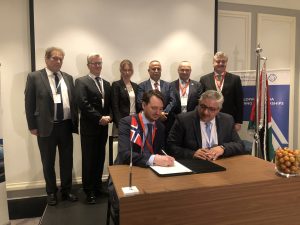 Bashar Abu Rumman the CEO of Aqaba Development Corporation (ADC) praised the project stating that he is "proud to say that this Project very much goes hand in hand with the Aqaba Development Zone's vision. His Majesty King Abdullah II's vision for Aqaba has and continues to emphasize sustainable development, putting the welfare of the community and preserving Aqaba's natural heritage at the heart of the development process".
"As we sign this MOU today, ADC, is further enabling the existing SFP to expand and insure its success, continuity and sustainability. This partnership, upon which we embark today, marks the launch of a new phase of the project and commemorates the special relationship between Jordan and Norway. We remain grateful for the investment SFP has put in this project and look forward to furthering means of cooperation between both countries. This partnership is also about promoting green technology for sustainable agriculture in Aqaba, Jordan and the region, as a way to protect the environment and empower agricultural communities struggling with water shortage. Our cooperation will indeed place Aqaba on the map as the host of a pioneering project that will have countless benefits on communities as well as the Environment".
Abu Rumman stressed that "ADC will work hand in hand with SFP and ASEZA to collaborate to insure the saltwater supply to the Project, avail additional land areas, attract other entities and industries to develop within and/or alongside the project".
The facility was opened by His Majesty King Abdullah II and HRH Crown Prince Haakon of Norway in September 2017. Since 2017 the project has successfully shown that it is possible to produce vegetables in Aqaba using saltwater and renewable energy.
Press contacts for further info:
Mr.Magnus Borgen, Head of Communications SAHARA FOREST PROJECT, magnus@saharaforestproject.com / +47 977 28 476
Ms. Oula Ayyouub, Investor Relations Manager ADC, oayyoub@adc.jo / +962 799 060 807
Mr. Peter Marji, Investor Relations ASEZA, Pmarji@aseza.jo / + 962 799 000 933
About SAHARA FOREST PROJECT (SFP): A Norwegian Foundation established in 2010 to enable sustainable and profitable innovation and deployment of environmental technologies within food-, water- and energy sectors. Core elements of the SFP concept for dry areas are a saltwater infrastructure combined with solar energy, greenhouse-based cultivation and outdoor food and biomass production. SFP is currently operating a demonstration scale facility in Aqaba, Jordan and is working toward realizing a large commercial-size desert farm.
About ADC: ADC, is the central development arm for the Aqaba Special Economic Zone. It is a private shareholding company that is owned by the Aqaba Special Economic Zone Authority (ASEZA). ADC is mandated to develop Aqaba Zone's infrastructure, provide business enablers and attract new investments to Aqaba while maximizing the role of the private sector through creating public-private partnerships.