Press Release:
SFP and BAMA launch a new business cooperation in the desert in Jordan
March 2nd 2020
Sahara Forest Project and BAMA announces a new cooperation to bring sustainably produced vegetables from the Jordanian desert to the Norwegian market.
 The Norwegian-Jordanian Sahara Forest Project (SFP) operates a facility producing food, freshwater, clean energy and biomass outside Aqaba, Jordan. The project is unique in the region, as desalinated saltwater and solar energy is used to grow food both inside saltwater-cooled greenhouses and outside in the desert. At the same time, the infrastructure allows for revegetation of arid land.
Now, Norway's leading company within vegetables and fruit,  BAMA, becomes a partner in the ambitious efforts.
-The new cooperation demonstrates international commercial interest for the high-end vegetables produced in this area of Jordan, Mr. Kjetil Stake, Managing Director of Sahara Forest Project said.
The new agreement was launched during the official state visit to Jordan on March 2nd, in front of Royals from two nations, Norwegian Minister of Foreign Affairs Ms. Ine Eriksen Soreide, Norwegian Minister of Trade and Industry Ms. Iselin Nybo and five Jordanian ministers.
SFP and BAMA will immediately start cooperating to choose which vegetables from the project that will be presented to the Norwegian market, and explore the best logistic routes from Aqaba to Oslo.
Other important areas of cooperation includes sharing experiences and bring technology know-how and inspiration from Jordan to other projects in dry regions of the world.
-The Sahara Forest Project is developing a technological concept enabling sustainable food production in dry areas. We will look into replication of the concept in Jordan to other production areas, where we experience challenges when it comes to grow crops, Mr. Oyvind Brisa, executive director of BAMA said.
The first shipment from Jordan to Norway will take place in May this year.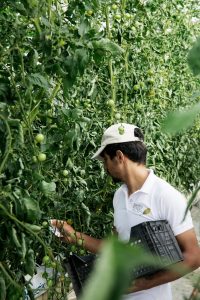 Global importance

Ever since the inauguration of Sahara Forest Project in 2017, the project has worked on realizing holistic solution for food, freshwater and clean energy production in dry areas. The cooperation with BAMA represents yet another milestone for the project, which already has received financial and political support from Norway, Jordan, EU and several private commercial partners.
-Our team in both Jordan and Norway is looking forward to work closely with a professional giant such as BAMA. We hope this new initiative will inspire others to implement climate-smart solutions when it comes to food production, in order to bring sustainable high-end products to consumers, Mr. Stake said.
Mr. Brisa of BAMA emphasized the global situation during the launch.
– Climate change affects the global production of vegetables. For BAMA it is crucial to have partners who are able to produce high quality in a sustainable way, concluded Mr. Brisa.
Contact Information for the press
Sahara Forest Project
Mr. Magnus Borgen, Communications Director
magnus@saharaforestproject.com
(+47) 977 28 476
BAMA
Ms. Pia Gulbrandsen, Communicatios Director
(+47) 415 16 661
The Sahara Forest Project Foundation (SFP)
a Norwegian entity established to enable sustainable and profitable innovation and deployment of environmental technologies within the food-, water- and energy-sectors. Core elements of the SFP technology are a saltwater infrastructure combined with solar energy, greenhouse-based cultivation and outdoor food and biomass production. SFP is currently operating a demonstration scale facility in Aqaba, Jordan and is working towards realizing a large commercial-size desert facility.
BAMA
BAMA is Norway's leading company within fruits and vegetables. With suppliers on all continents, BAMA makes sure that produce from the whole world reaches customers in Norway. Freshness is a clear premise, and BAMA has therefore developed advanced logistical solutions that makes it possible to always deliver fresh produce of high quality. As BAMA's business impacts so many people, BAMA takes a particular responsibility to conduct its work in a good way. BAMA has a strong engagement in ethical management and activates for climate and the environment.