-It is a great pleasure to be back at the UN Climate Summit to announce that we have started to build our new Jordan facility that will be ready in May 2017, CEO Joakim Hauge said during a high-level COP22 event inside the accredited Blue Zone, hosted by the Sahara Forest Project on Monday November 14.
The Sahara Forest Project travelled to the high-level week of the UN Climate Summit COP22 in Marrakech. The company was present with 5 employees in the accredited Blue Zone, as SFP hosted and attended various climate change events and used the opportunity to meet present and new international stakeholders.
During the spring of 2016, The Sahara Forest Project initiated together with the Bellona Foundation the collaboration project "Towards 2050 – Enabling Carbon Negative Solutions and Restorative Growth". The idea was to build a unique collaboration platform between business, NGOs, government and research for solution-oriented communication and showcasing concrete carbon negative solutions, initiating a lot of  exciting activities and boost knowledge sharing. The Norwegian Ministry of Foreign Affairs entered into the partnership in August. Other partners included Gassnova, The Norwegian Climate and Environmental Ministry, Nordic Energy Research, Global Alliance for Climate Smart Agriculture, Climate and Clean Air Coalition and the Norwegian Ferrolegeringsindustriens forskningsforening (FFF).
Climate Summit history of Sahara Forest Project
Taking an active role advocating and doing awareness-raising and deliver a carbon negative business case to movers and shakers and influence UN Climate Summits is an important part of the Sahara Forest Project history. The Sahara Forest Project was launched internationally for the very first time at COP15 in Copenhagen in 2009. At COP18 in Doha in 2012, SFP opened the successful pilot model receiving visits from several hundred climate summit delegates.
At COP22 in Marrakech in 2016,  our goal was to inform key stakeholders and decision makers from public and private sector, as well as international organization and non-governmental organizations about out work.
The Sahara Forest Project facilitated events at COP22 in Marrakech
Event 1 – Monday November 14. november
"Sahara Forest Project in Jordan – Restorative Growth in Practice".
On the first day of the high-level weeek at the UN Climate Summit the Sahara Forest Project (SFP) invited to a side event on the organization's initiatives in Jordan. The event was held for a filled conference room in the Nordic pavilion with more than 50 people present.
SFP CEO Joakim Hauge presented short Sahara Forest Project's concept, history and details of the new facility that opened in May 2017. Climate and Environment Minister Vidar Helgesen announced during the event that the Norwegian authorities will increase their support for the Sahara Forest Project's efforts in Jordan with an additional 600.000 euros.
Read more about the event where also the EU and Jordanian government took part.
On Wednesday November 16, The Sahara Forest Project organized a breakfast workshop together with the Global Alliance for Climate Smart Agriculture (GACSA) looking at climate-smart solutions in regards to global water-energy-food security.
More than 20 senior representatives from government, private sector, international and non-governmental organizations and research attended the roundtable discussion to discuss opportunities and challenges around an integrated approach to food, energy and water. GACSA attended at the very highest level with both its two co-chairs, Mr. Martin Bwalya and Ms. Mi Nguyen.  The CEO of the SFP Mr. Joakim Hauge introduced the work of SFP as a practical example of such an approach. There was great interest in the concept, and the discussion afterwards included discussion of investment costs of such projects and the importance of good public-private partnership to stimulate investment.
In the agricultural context, it is important to have solutions that serve the entire value chain and ensures the local farmers' values. Empirically, this is also good business for project developers, as sustainable technology innovation in agriculture also need to serve local communities with valuable knowledge transfer and new green jobs.  The link with health and nutrition agenda were also cited as important dimension of sustainable projects in food, water and energy, and they discussed the potential for carbon negative production systems that also ties up CO2.
Represented organizations include SFP, GACSA, Food and Agriculture Organization of the United Nations, Global Open Data Initiative, Norwegian Ministry of Foreign Affairs, Bellona Foundation, ​​EAT Foundation, University of Florida, EY Norway, Caritas Norway, the Climate Coalition, et al. Around 10 different nationalities participated at the workshop.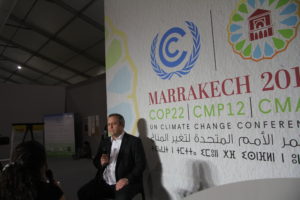 Other relevant COP 22 events included:
Stockholm Environmental Institute (SEI) Nexus event.
SFP was briefly presented as a case study of a concrete solution to meet the water, food and energy challenges in the MENA region. SFP had active participation in an event organized by the EU, Germany's development and environmental authorities (GIZ and BMUB) and Stockholm Environmental Institute (SEI) of "A Nexus Approach to Integrated Climate Adaptatation and Mitigation in the MENA Region". SFP was included as a 'practical solution' as the background flyer for the event, and were referred to during the meeting by SEI. SFP gave an update on the status around Jordan facility.
EDAMA event
SFP received compliments for start of construction of the Jordan facility and was welcomed as a member of Edama. EDAMA, an Arabic word meaning "sustainability", is a Jordanian business association that seeks innovative solutions for energy and water independence."Investment in Clean Energy as a Driver for Climate Action in the Eastern Mediterranean Region". This was in many ways a showcasing event for renewable industry in Jordan. Edama showed a new promo video where HE the Minister of Environment Dr. Khayyat spoke warmly of the country's renewable potential and activities. The video included actually a brief reference to SFP as one of several promising projects in the pipeline. SFP actively participated in the Q & A -sesjonen and received several congratulations for our initiation in Aqaba.