A starting point forgreen growth solutions in dry areas
 Under the patronage of His Majesty King Abdullah II of Jordan and His Royal Highness Crown Prince Haakon of Norway the Sahara Forest Project Launch Station in Jordan was inaugurated on Thursday September 7th 2017.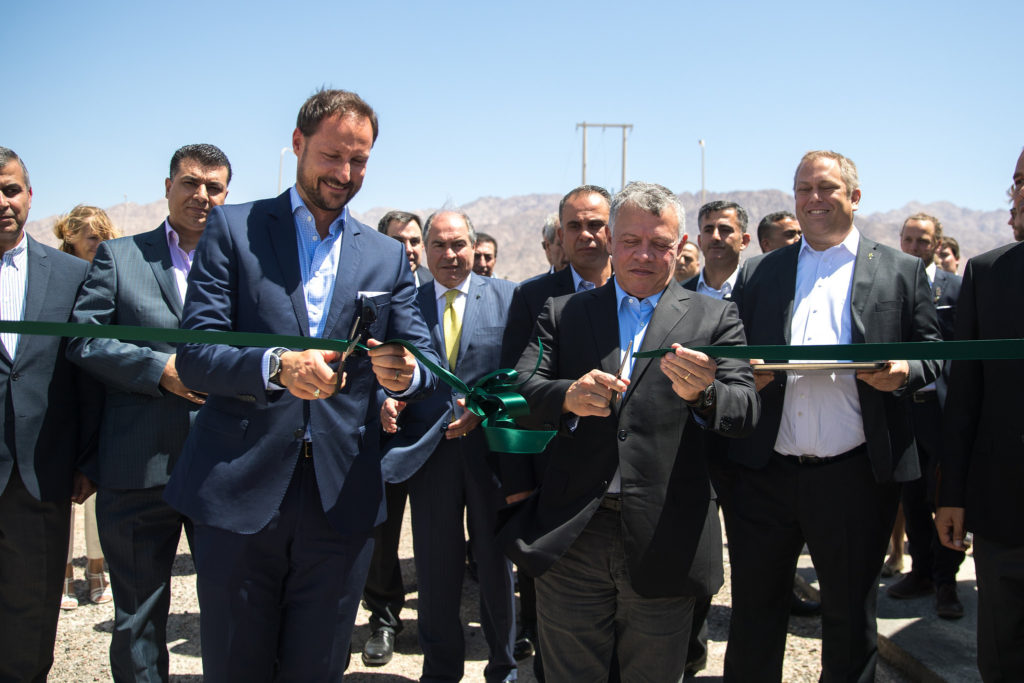 –We are honored to have His Majesty and His Royal Highness visiting the Sahara Forest Project. I am pleased to announce this as the starting point for the realization of large scale operations here in Jordan and in other countries, Mr. Joakim Hauge, Chief Executive Officer of the Sahara Forest Project, said.
This unique 3 hectar facility is located outside the Jordanian port city Aqaba. The Sahara Forest Project only uses proven technologies, put together in a new system. The project uses sun, saltwater, desert areas and CO2to produce food, freshwater and clean energy.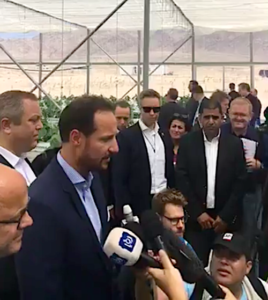 His Majesty and His Royal Highness were informed about the potential for profitably realizing sustainable growth and horticulture production.
The ambitious project is realized with financial support from the Norwegian government and the European Union as the two largest donors.
The Norwegian Minister of Climate and Environment, Mr.Vidar Helgesen, travelled from Oslo to take part at the Royal visit, as well as speaking at the following High-Level conference.
-The Sahara Forest Project demonstrates that innovative application of technology has the potential to revolutionize our land use systems in a way that benefits the climate, people and business. I, for one, am extremely excited to see how this project develops and how it can inspire other similar initiatives, Mr. Vidar Helgesen said.
The European Union delegation in Jordan was present at high diplomatic level with the Chargé d'Affaires.
––The EU is honoured by this distinguished Royal visit to a project which is a model for energy, water and food security in Jordan, Mr. Egidijus Navikas, said Chargé d'Affaires of the European Union Delegation in Jordan.
Mr. Navikas emphasized that this project is a part of the EU support to green energy in Jordan that exceeds 160 Million Euros at this moment, and that he looked forward to further enhanced cooperation, particularly when it comes to synergies such as creating jobs, fighting poverty and opening up for further research.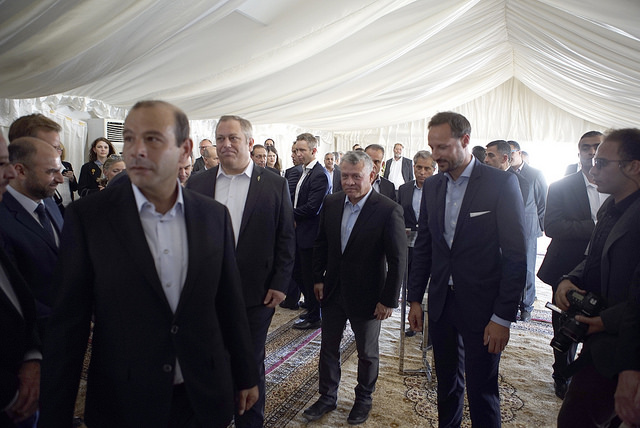 Green jobs creation
-The ambition of the Sahara Forest Project is revegetation of desert areas and contributing to social development by creation of green jobs. We want to achieve this through profitable production of food, freshwater, biofuels and electricity, Mr. Hauge said.
The Sahara Forest Project Launch Station in Jordan is realized with support of Norway, EU, USAID, Grieg Foundation, Sundt AS and Yara International.
– Together with the valuable support of the Jordanian governmentthis public-private consortiumwill be a powerful alliance in establishing Aqaba as a regional power house for new way of using arid landscape, Mr. Hauge said.
USAID has contributed with funding for shipping and inclusion of materials and equipment from the successful Pilot Facility outside Doha, Qatar.
Triple Bottom Line approach
The Sahara Forest Project is founded on the idea that deserts once again can be green.  And that this can be realized through activities with a triple bottom-line.
-Everything we do on the ground in Jordan is measured against three goals. Our activities need to be good for people, it need to good for the environment, and it needs to be good for business, Mr. Hauge said.

Hub for green growth systems
The objective of the Launch Station is to pave the way for large scale expansion of restorative farming in Jordan. The Launch Station is the first step towards the full-scale Sahara Forest Project Jordan Center of 20 hectares.
-Eventhough we are extremely proud of what we have achieved so far, this is not the end point. It is onlythe beginning. Jordan may very well be the hub for green growth systems in the near future, Mr. Hauge concluded. 
Contact information:
Mr. Magnus Borgen, Head of Communications at The Sahara Forest Project
magnus@saharaforestproject.com / Tel: +47 977 28 476.
Key Facts
Up to 130,000 kg vegetables produced per year
10. 000 liters of fresh water production per day
Solar Power production from photovoltaic panels
3 hectares (equal to the size of 4 football fields)
2 greenhouses – a total of 1350 m2 of growing area
3200 m2 outdoor planting space
Salt ponds for salt production
Here you can download more information on The Sahara Forest Project:

SFP Jordan Launch Station opening

SFP Folder 2017

SFP Jordan Launch Station 2017 (Arabic) Final
Program of the Sahara Forest Project Green Growth Opening Day Conference:

Sahara Forest Project Opening Day ProgramBio final
Pictures from the SFP Launch Station opening:
Click here!