The independent documentary film There Will Be Water premiered in Scandinavia at the Norwegian State Broadcasting (NRK) on October 9 2016. The film can be watched online on this NRK link (only available from Norway).
It was in June of 2016 at the Sheffield Doc/Fest, the most prestigious British documentary and one of the largest documentary film festivals in the world, that the film premiered for the very first time.
On November 14 2016, the film won "The Golden Sun Award" at FICMA – The Barcelona International Environmental Film Festival  – which is the longest running environmental film festival in the world.
There Will Be Water won the award as the best documentary film under 60 minutes.
There Will Be Water is the story of the British engineer Bill Watts, Technology Manager of The Sahara Forest Project, taking part in the pursuit of the ambitious vision of greening desert areas whilst producing food, freshwater and clean energy at the same time.
The 59 minute documentary film, directed by Danish film maker Per Liebeck and produced by Copenhagen Film Company.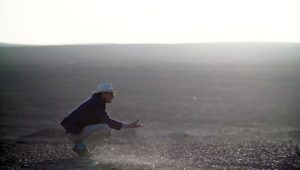 Bill Watts from SFP in "There Will Be Water". Photo Credit: Copenhagen Film Company
Sahara Forest Project congratulates film makers-On behalf of the Sahara Forest Project I congratulate the producers on their achievements, CEO Joakim Hauge said.
The film tells the background story of how a Sahara Forest Project pilot model was established in the desert of Qatar. The film makers follow Mr. Watts during an intense and stressful construction period. The goal of this unique pilot project was to demonstrate that it was possible to provide suitable growing conditions that enable year-round profitable cultivation of high-value vegetable crops under rough climate conditions in the Qatari desert.
In a case study by FAO, the Food and Agriculture Organization of the United Nations, it was later documented that the successful Sahara Forest Project pilot model in Qatar produced crops just as good as any normal European greenhouse operation by only using 50% of the water normally used at similar operations.
-An example of extensive global media interest
 -More and more people are realizing the potential for answering some of our times most pressing issues through creating a restorative growth. This independent Danish documentary is an example of the extensive global media interest in The Sahara Forest Project, CEO Joakim Hauge said.
He said he believed the film is important as we are facing critical challenges in providing enough sustainably produced food, freshwater and energy for a world population expected to reach 9 billion people in 2050.
-Today the trend of desertification is happening 30 times faster than ever before in the history of mankind. This trend must be stopped. The environmental challenges of our time are closely interlinked. The Sahara Forest Project is pushing for a future with interlinked solutions, Hauge said.
A trailer for the new film can be found here. For more information, please contact:
Magnus Borgen, Head of Communications SFP, magnus@saharaforestproject.com, +47 977 28 476
Per Liebeck, Director "There Will Be Water", pl@cphfilmcompany.dk phone: +47 940 58 842